Calling all couples!
We may not have our robot maids or hover-cars yet, but the future is definitely on the horizon. And it's a very bright future indeed for brides the world over. No longer will we be subjected to shabby DIY wedding albums, no more must we endure the loss of our Kodak moments – the digital wedding album has arrived and brought with it a big old dose of revolution.
The traditionalists among us probably have some reservations about handing our favourite memories over to cyberspace. But we're going to let you in on a little secret – Wedding Photo Swap's online wedding gallery is the easiest and safest way to collect your wedding memories and keep them nice and secure. We promise. Read on to find out why digital is the way forward for the brides and grooms of today.
Convenience is numero uno. With Wedding Photo Swap, you can forget the burden of collecting and preserving your wedding photos the old-fashioned way. On this digital platform, you can store, edit, and organise the images to your heart's content, creating any number of lovely sub-albums on account of your ultimate bridal authority. And these don't just have to be photos from the big day – you can store images from the hen party, the stag do, the impromptu engagement party – everything before and after the big event. The whole shebang. Images can be arranged separately or placed on the wonderful wedding timeline if you fancy getting chronological. The possibilities are endless and 100% PVA scrapbook free.
And there's more! You can get all the wedding photos from your family and friends, which may otherwise have gathered virtual dust on the hard-drive of a computer or a digital camera somewhere. Wedding Photo Swap allows you to invite guests to upload their own photos of your special day, whether it's by email or Wedding Photo Swap's super slick invite cards. And unlike other photo-upload websites, you're offered complete choice of who you'd like to see and upload your photos, offering both privacy and security – great for brides with superiority complexes and control issues (don't worry – it happens to the best of us).
With digital wedding photo albums, you never have to make the choice between scrapbooks and frames. Simply choose which photos you'd like for high-quality, high-resolution prints, and they'll come to your door – ready to bring a splash of colour to your living room. Printing your beautiful wedding snaps couldn't be easier than with Wedding Photo Swap.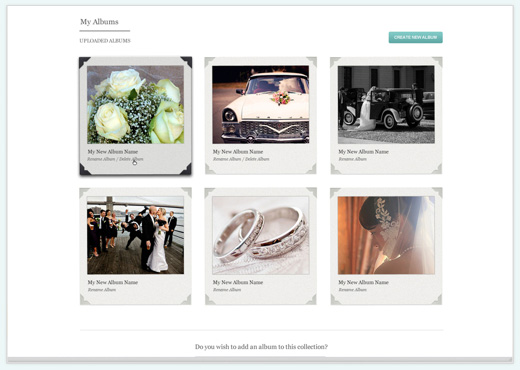 Of course, unlike traditional albums, where the less-than-perfect shots will stay less-than-perfect, a digital wedding album offers easy fixes for these flaws. This way, you can forget satanic red-eye and background UFO sightings, so unlike with traditional wedding photo albums, you won't have to cut the eyes out.
If that's still not got you converted to the digital age of wedding albums, you can always give Wedding Photo Swap a whirl for free. Even the biggest technophobes will find this service an absolute breeze, so what are you waiting for? Step into the 21st century wedding world today.